Toolboxen van de RAD …
Naam en functie
Opgelet: naargelang de selectie van 'Project Property-Components" zijn andere elementen beschikbaar!
Form: Meest algemene onderdelen op een formulier als knoppen: druk-, aan/uit-, omschakel-knoppen, teksten, invoervelden, weergave van tabellen, beelden, lijnen, cijfers, enz
Dialog: Roepen meestal een "dialoogbox" op die toelaat dingen te kiezen, zoals directory, bestand, datum, kleur, lettertype, enz. De dialogen zijn herkenbaar, vergelijkbaar met andere programma's binnen de grafische omgeving.
Container dient o.a. om andere objecten te bevatten , groeperen, af/uit te lijnen, bundelen.
Data: Om data uit databasetabellen weer te geven; eerst een DataSource, daarop een DataBrowser of DataView voor de tabel of DataControl, DataCombo voor individuele velden.
Special: speciale opbjecten die niet altijd zichtbaar zijn, als een timer (heeft functie in achtergrond tijd af te tellen)
Menu
Een menu-struktuur kan menu-items bevatten, iconen en aan/uit schakelaars:



De "toggle" of aan/uit schakelaars geven een toestand weer zoals "bold" aan/af, een weergave op het scherm aan/af, enz.
Bij "delete messages" staat geen toggle maar een icoon om het verschil te laten zien.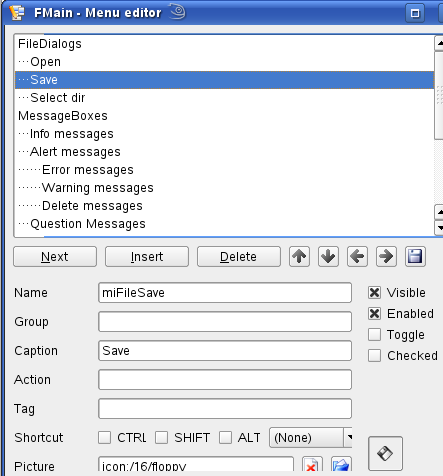 Menu editor oproepen: CTRL-E (rechts klik, menu editor)
Insert om eerste/nieuw menu item te maken.
De hierarchie van de menu's wordt weergegeven door …
Pijltjes om te navigeren.
Beeldje (icon) selectie; wordt weergegeven in menu.
In de code kan je menu-keuzes zo opvangen:
PUBLIC SUB miFileSave_Click()
Dialog.Title="Saving File "
Dialog. (enz)
END