Als je in de programmeeromgeving kijkt naar de eigenschappen van je project via menu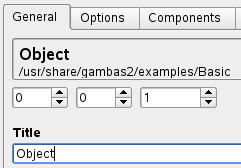 Project / Properties
zie je daar een nummer in drie delen, verspreid over drie "spinbox" vakjes.
Je kan hier het nummer manueel instellen, wordt bewaard met je programma.
Maar als je van je programma of project een uitvoerbare versie maakt:


(icoon van tandwiel), of via het menu en daar "executable",
dan wordt het laatste getal van het versienummer automatisch met 1 verhoogd.
Het nummer wordt niet verhoogd als je enkel compileert met compile/compile all, of als je een source archive maakt!
Je kan ook in je applicatie het versienummer weergeven;
stel dat je op een "About" scherm een textlabel hebt txlbTitle, met de titel van je programma als tekst.
in de openingscode van het venster die tekst aanvullen met het versienummer:

txlbTitle.Text &= Application.Version
Nb: het getoonde voorbeeld is een "read-only" voorbeeld uit de gambas omgeving; dat zie je aan de plaats van de applicatie in het directory pad; normaal zal een programma waar je zelf aan werkt in een home directory staan, bv /home/wig/gambasapps/myprogram.